David Eichelbaum Eight-String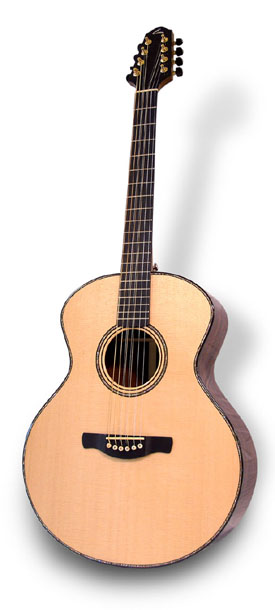 There's an article about this guitar in the latest issue of Acoustic Guitar Magazine. David Eichelbaum in collaboration with Larry Prichett set out to make a 12 string. Somewhere along the line they stumbled across the idea of making a guitar like
This 7 string guitar attempts to recreate the sound of a twelve string by having two g strings, one being a higher octave than the other. I have a chance to play this guitar when I visited the Martin Factory in Nazareth, PA during one of their guitar shows. It was a very interesting guitar, it played very well, but I am not convinced it sounds fully like a 12 string.
This 8 string however may get the job done. I think it's a very interesting concept, to allow lead playing on a guitar that rythmically sounds like a twelve string. I'd be interested in trying out this guitar, but being that it's a private luthier and it costs $7450 I don't think I'll have the chance to do so.
What are your thoughts on this new 12 string-sound-a-like theory?
Comments {3}